RememberTheMilk To Do Lists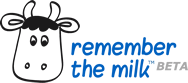 RememberTheMilk is a new ajax-rich to-do list that is similar to 37 Signal's Ta-Da Lists.
RememberTheMilk lists are organized by tabs. Items are easily entered (although there is an extra click in there that bugs me). Clicking between lists is very straightforward. Items can be easily reordered. And you can also share lists and/or choose to make them public.
About Author